Conversational Recruitment
Enhance Recruitment processes with the help of Automation and Pre-Screening Chat-bot to find your Purple Squirrel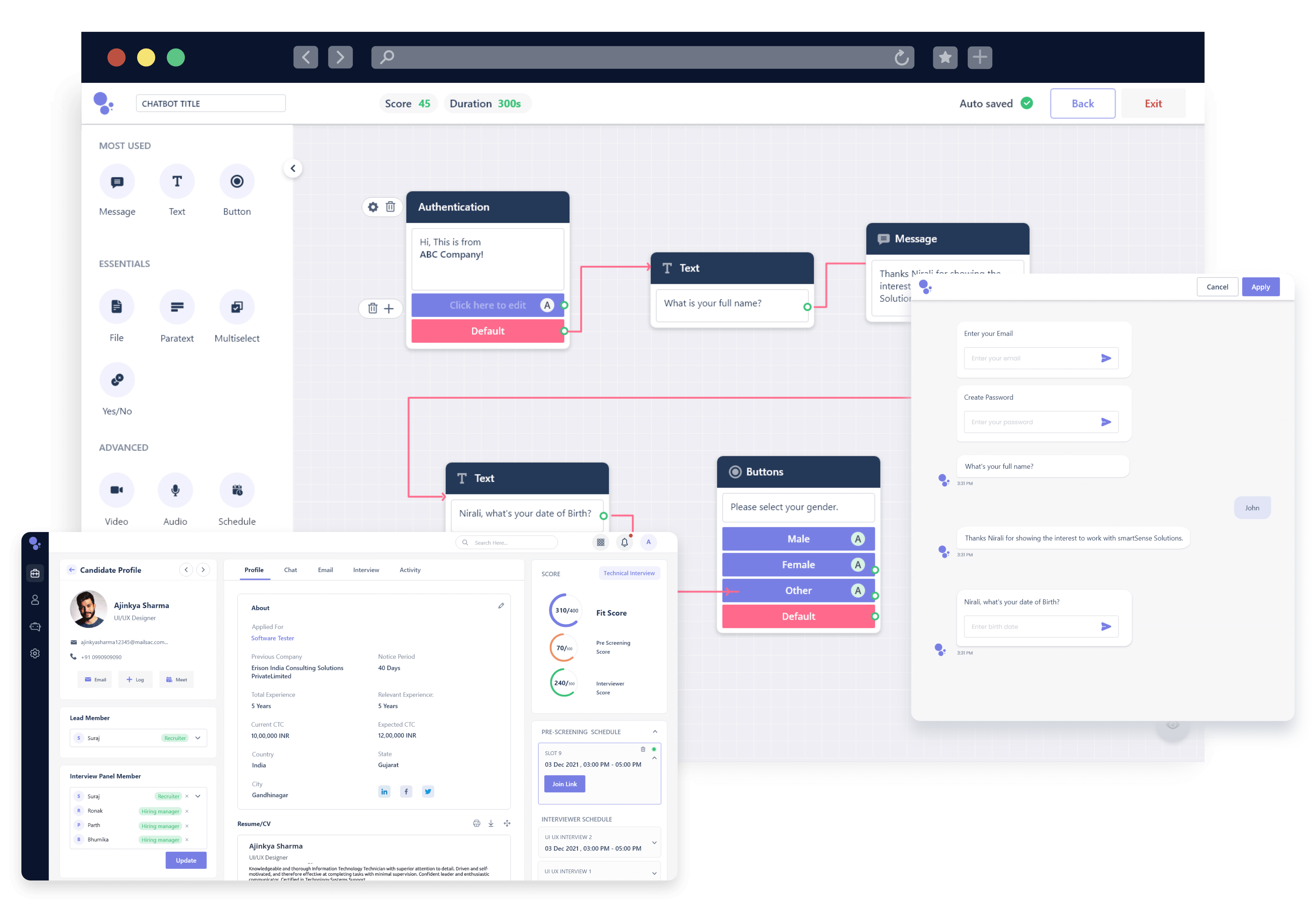 How much time do you spend to recruit a Talent?
Before Foster Talent
The average recruiter spends more than 20 hours to select 3 talents from over 250 applications.
After Foster Talent
Foster Talent helps recruiters to save 50% of their time
60%

of mechanical
work reduced
Why Foster Talent?
Pre-Screening Chatbot
Customize and personalize your chat bots that needs to communicate with the candidates. Job description, skill sets, round 1 assessments can be automated with the chatbot itself to save a hefty amount of time.
This automates your prescreening stage to find your purple squirrel.
Video/Audio/ Schedule Chatbot Features
Like to understand your foster-talent's more? Here comes the Video/Audio features with the chatbot flow. You can ask live recording video/audio questions to learn the candidates.
Like to know when your foster-talent are available? Just a click away to set up schedule feature to set up slots to be selected by the candidates.
ATS and Career Site Portal
Manage your foster-talent, store data and analyse data efficiently.The design and the page flows are taken to the atmost consideration to deliver best user experience.
Needless to say about the beautiful and super attractive career site portal you get. Improved Candidate experience and engagement is the ultimate aim of foster-talent to enter the ear of conversational recruitment.
Feedback Mechanism
Face problems to follow up feedback from rhiring panel members?
Tada!.....you got to structure that. Foster-talent has the feature called feedback setup to structure the remarks, comments made by different hiring panel members. Setup the feedback mechanism with all the parameters you would like to anayse and get the performance metcs.
Analytics and Reports
Let's get it straight! The Analytics and reports all you need
Jobs-

Time to fill, Current Pipeline Analysis

Candidates-

Candidate progress, Time to hire, Candidate source

Team Members Analysis-

You can easily evaluate the work of users in the system, broken down into a single employee or team and export anytime.
All the apps you need
Our integtations